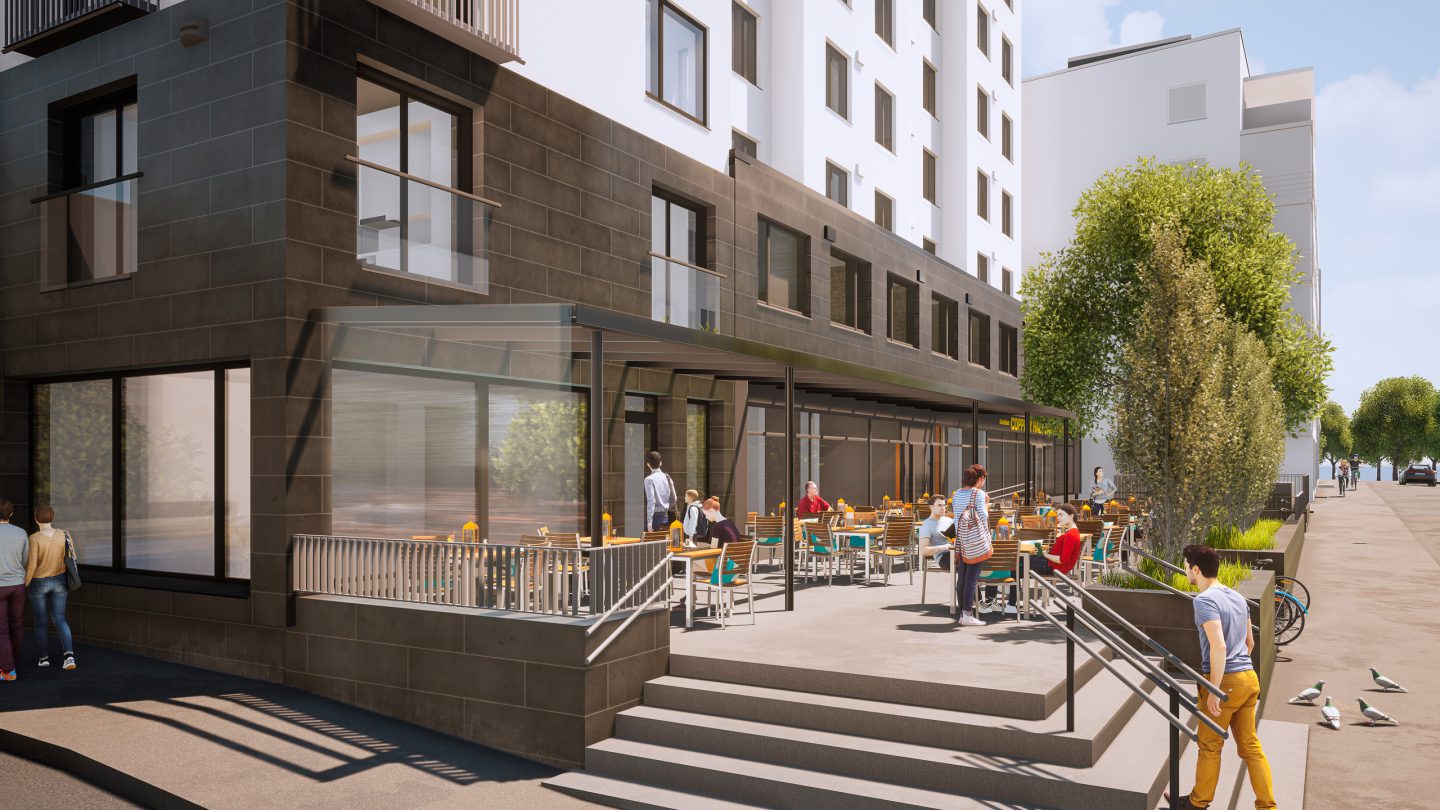 Aleksanterinkatu 20, Tampere
As Oy Tampereen Jousimies
Neva Architects got a chance to design a new residential apartment building right to the heart of the city. Tampereen Jousimies offers modern, well-equipped apartments and street-level retail space.
Residential and commercial building
A 4,500 square meter and 9-storey residential and commercial building will be built on Aleksanterinkatu. At the street level, there are business premises and from second to ninth floor apartments. The basement has furniture storage, technical facilities, shelter and auxiliary facilities for business premises. The current underground garage on the property will be renovated to its former use.
Facades
The materials used in the building are mainly white plaster. The dark stone surface of the first two floors, together with the large glass of the commercial premises, form a pedestal for the building and is reminiscent of the old two-storey "Epes" corner. The eaves line on the 8th floor follows the eaves line of the neighboring building and the 9th floor is retracted. On the facade of Aleksanterinkatu, the French balconies of the apartments are placed evenly spaced, which seeks a connection to the surrounding buildings.
The French balconies of the pedestal have a dark glass railing, which gives privacy indoors and connects the darkness of a strong pedestal colors. The larger apartments on the 8th floor face the façade with high windows and glass railings in the French balconies. The roof and the wall surfaces on the 9th floor are smooth dark seamed sheet metal, as in the neighboring building.
Courtyard areas
The corner of Aleksanterinkatu and Kyttälänkatu has a glass-roofed terrace for the business premises on the gound floor. The terrace area will be raised on the corner of Aleksanterinkatu and Kyttälänkatu from street level which creates a sense of privacy. The front yard is enlivened by plantings. The walls surrounding the front yard are upholstered in the stone material of the pedestal of the building. The yard and the stairs are made of light concrete stone.